---
Ferry was the only one diving in Mexico, as Mirjam was pregnant. After snorkelling with whale sharks, mantas, and sea lions in La Paz (see our travel section), the diving could only be a disappointment, but it wasn't. The two dives in La Paz, near Los Islotes were very nice, good visibility, sea lions at Los Islotes and a nice dive with caves at La Ballena. Beautiful fish, moray eels and nice scenery provide a good day of diving.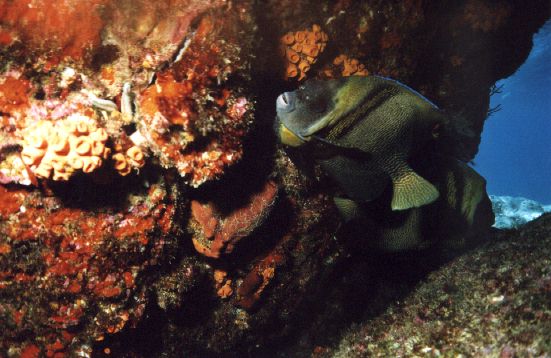 Angel fish in the Sea of Cortez
After La Paz, most of Ferry's diving was in Puerto Vallarta. Dive sites visited were: Marietas Islands, Majahuitas, Los Arcos (day and night), and Mismaloya. The water was a bit in motion and not very clear because a tropical storm had passed by a week earlier. This was a shame as it limited the diving. At the dive sites mentioned, lots of different moray eels were to be found, along with different species of boxfish, octopus, lobster, and scorpion fish.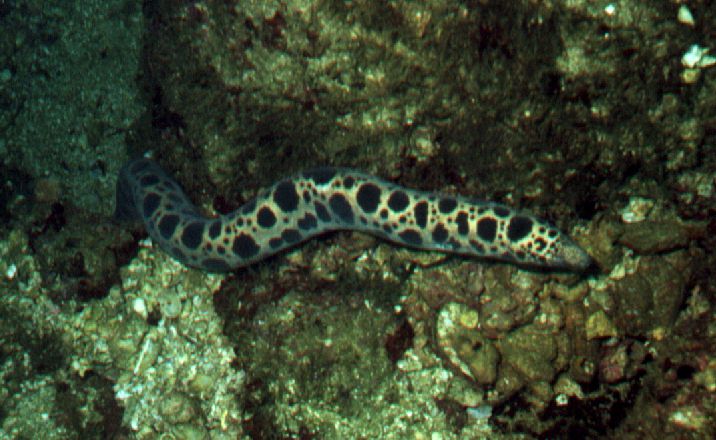 One of many moray eels seen on dives in Mexico
The last dive was at Mismaloya cove, and the visibility was awful (maybe 3 meters), but the dive was saved when an eagle ray crossed Ferry's path just before the end of the dive. The photos are not that great because of the visibility, but the memory is!!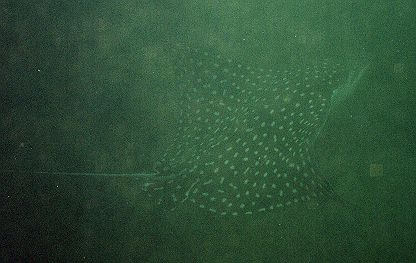 Eagle Ray saving the dive...

E-mail: website@famdepaus.nl
Click here to return to the front page.