Diving Ningaloo Reef Australia
---
We had planned to do some diving from Exmouth as well as from Coral Bay. However, the tropical storm Vance spoiled our plans and we ended up diving from Coral Bay only, since Vance damaged most dive operations and destroyed some dive sites in Exmouth.
Emperor fish on Ningaloo Reef
Ningaloo Reef proved to have some of the most beautiful and largest coral formations we had ever seen. Although not very colourful, the diversity in corals is absolutely stunning. We were a bit unlucky with the weather and could no go to the outer reef on most occasions, so the number of dive sites we visited is limited. We did however see
eels:
giant cod: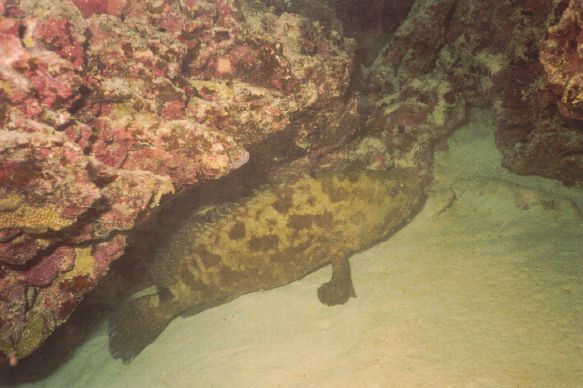 turtles, reef, leopard and nurse sharks, octopus, stingrays, lionfish:

giant starfish, nudibranch and Mirjam got hooked on Christmas tree worms.
Have a look at the website of ReefGuardian, an organisation trying to protect the coral reefs of Ningaloo and other reefs.

E-mail: website@famdepaus.nl
Click here to return to the front page.