Our return visit from Aug 23 to Sep 15, 1996
---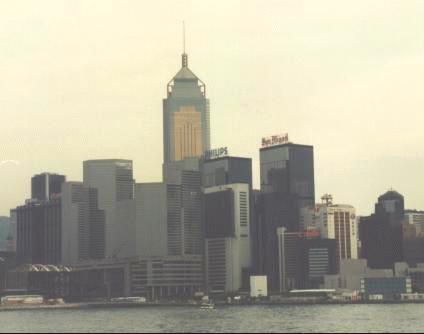 Hong Kong Skyline
The Story:
Friday August 23rd. Finally, after weeks of counting down, we were all set to go. We took the train to Schiphol airport, where we embarked on our direct flight to Hong Kong. The flight would take nearly 13 hours, and we were a bit nervous about how Emmy would like it. That turned out to go rather well. She had quite some sleep, enjoyed the airplane-food, especially the fruit yoghurt, and didn't have too much problems with sitting in our laps almost all the time. It was quite a relieve, so we arrived in good spirit in Hong Kong, local time 09:00 am. We checked into our hotel, where we had a room for the day. As we (Mirjam and Ferry) didn't sleep on the plane, we took a quick nap before we headed into town. It was a hot, humid day, overcast but no rain, and the sun broke slightly through the clouds once in a while. The hotel courtesy bus took us to Tsim Sha Tsui, where we got onto the Star Ferry, which took us to Central, on Hong Kong Island.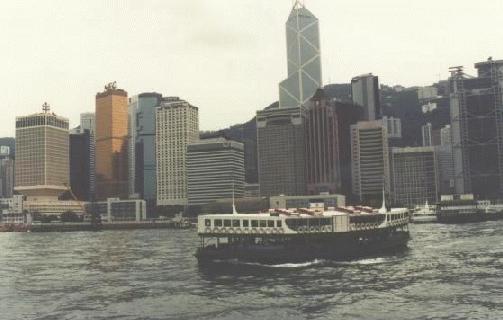 Star Ferry in front of Central
After the short ferry ride, we decided to go to the peak tram. We walked between the skyscrapers to the departure point of the peak tram. There was a queue there, but after checking with someone at the front of the queue, who informed us he was in there for only 15 minutes, we decided to get in line. He told us the truth, because we could get on the tram about 15-20 minutes later. The tram was VERY crowded, and it does a very steep ascend, so we were more occupied with keeping to our feet than we were with the stunning scenery outside. But, on the top of Victoria Peak, we had the time to enjoy the view.

View from Victoria Peak
There's a big shopping mall on top of the peak, with restaurants as well. We had a drink, fed Emmy, enjoyed the view and finally decided to head down again. The queue for the tram was now even bigger, and we decided to take the bus instead. That turned out to be a very good idea. The bus drove along the other side of Victora Peak, giving us a view of Aberdeen and surroundings. Once in Central, we drove through a street with Chinese market in every side street, with torches and all. All in all, it was a very lovely bus ride, and we got off at the MTR station (the Hong Kong subway). We took the MTR to Wong Tai Sin station, with the equally named temple. The temple itself was closed, but we could walk around it and have a good look at it. When we were all set to get back to the hotel, we wanted to call a taxi, but we turned out to be right on a taxi stop, so we didn't have to bother calling one. After the short taxi ride to the airport, we took a long shower and another quick nap before we got on our 11:00 pm flight to Cairns.
Our arrival in Cairns was on Sunday, August 25th, 8 am. This time, the flight with Emmy was not such a success, due to the fact that we had seats where the overhead lights could't be switched off. There were no other vacant seats with a baby basinet, so we had to stay put. Emmy concluded that if it was light, it must be day, so definitely no time to go to sleep! She got really tired, but refused to go to sleep, no matter how many bottles we gave her. She went to sleep just shortly before we landed, so the two of us were again without sleep. On arrival, we picked up our rental car and drove straight to our hotel. We put Emmy to sleep, and afterwards went to sleep ourselves. Emmy could sleep all day, and so could we, but somehow we got up again and went for a short walk. The night that followed was a hectic one, as Emmy had a clear case of jetlag, Mirjam didn't feel much better, and Ferry, who was least troubled by jetlag, had to get up early the next morning to start with his dive course.
The first two days of the dive course were theory in Cairns, with some practice in the pool. Emmy was still under the influence of jetlag, which made our nights very short. Wednesday August 28th, Ferry got on the dive boat and headed for the Great Barrier Reef to conclude his dive course. Mirjam stayed in Cairns with Emmy, taking her to a sanctuary and on the Skyrail. Ferry had a great time on the reef. In total nine dives, four of which were required to get certified, and therefore consisted mainly of practice (regulator recovery, mask flood, that sort of thing). But after those four, the real fun was about to start as we could go diving with only a buddy. We had a nice group, great food (thanks to our cookie), wonderful dives, and great snorkelling as well. Ferry returned to Cairns on Friday, and the next day it was Mirjam's turn to go snorkelling and Ferry's turn to babysit Emmy. We went to Green Island, close to Cairns. A beautiful island with some nice coral as well, although you could notice that a lot of tourists visit this place, which doesn't do the coral any good. Mirjam saw two blue spotted lagoon rays whilst snorkelling.

View from Green Island to the mainland
After our trip to Green Island, we spent our last night in Cairns. The next day, we were off to Mission Beach. A small drive, and an early start (that's easy with a baby to wake you up), so we had plenty of time for detours. Our first one was to Babinda Boulders, a place where a small stream cascades between some very large boulders. A nice walk with some good views, and lots of rainforest.

Rainforest at Babinda Boulders
From Babinda, we went back to the highway and off again to Josephine Falls, which are really beautiful, and provide a natural waterslide over some rocks, although we didn't try that as we weren't wearing our swimsuits. Certainly worth the small detour! We had some lunch, and off again. Back to the highway, to Innisfail, where we took the Old Bruce Highway, which leads to a strange place called Paronella Park, which was founded by a Spaniard.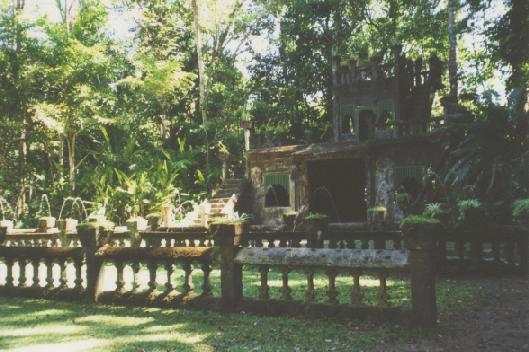 Paronella Park
It is now open to public, and consists of some remains of a castle and additional buildings, a lake, and lots of trees. It breaths a very quiet, relaxing atmosphere, and we thoroughly enjoyed it.

Castle in Paronella Park
From Paronella, the Old Bruce Highway continues to Silkwood, where it re-joins the Bruce Highway. Eight kilometers furtheron, we took the exit at El Arish to Mission Beach. Our accomodation was very nice, but we didn't get to see much of Mission Beach itself, as we only stayed for one night. If we would have stayed a bit longer, we would have gone to Dunk Island, but we didn't this time. However, we were lucky enough to encounter the most famous wildlife in Mission Beach and surroundings, the Cassowary, a walking bird with a small resemblance to the Emu or Austrich, but with very bright colors.

Wild Cassowary near Mission Beach
The next day, we had a relatively short drive to Townsville, where we would take the vehicle barge to Magnetic Island. We stopped at Butterfly World on our way there, which was ok though nothing really special. Our arrival in Townsville was quite early, so we had the time to take Emmy to a playground, which she appreciated very much. The ferry ride to Magnetic was calm, and it took about an hour, as the barge is quite slow. We checked into our motel, and took a walk at dusk to the forts, where we hoped we would see some koalas in the wild. It wasn't until very close to the lookout point of the forts that we saw our first koala. Although we had seen them before in the zoos, it was a different experience to see one hanging above us in a tree. We enjoyed the sunset from the lookout point, and went on to complete our circuit walk. As it was getting dark we also came across an owl sitting on a treebranch, and it did not mind its picture taken.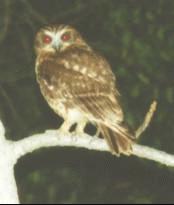 An owl after sunset
We saw another koala near the lookout point, and one more on our way back. It was sitting in a tree very closeby, and this was the same track we had followed coming up. Could be we just missed it on the way up, because these creatures are very hard to spot.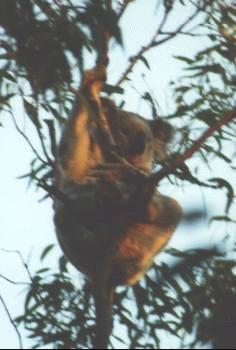 Our second koala-in-the-wild
Our second day on Magnetic Island, we woke up early. This was nothing new, as Emmy did a pretty good impression of an alarm clock. But this time, we decided to make an early start, so we headed for the dive shop to rent some snorkelling equipment. After picking that up, we drove to Florence Bay. The road towards the bay is pretty bad, with giant holes, but if you drive carefully, it's not really all that bad. Most importantly, it's WELL worth the hassle. Florence is a beautiful secluded bay, with a lovely beach and beautiful rocks.

Florence Bay, Magnetic Island
It was somewhere around ten o'clock when we arrived, and we had the bay completely to ourselves. This could be paradise! We took turns snorkelling, and Emmy even took a nap under some trees. There's some coral in the bay, but mostly it's soft coral and seaweeds. There are some lovely colored fish, and we also saw a blue spotted lagoon ray. All in all, the snorkelling was quite nice, even for people like us who knew what the Great Barrier Reef looked like. The place got a little crowded after lunch, but by then we were all set to go.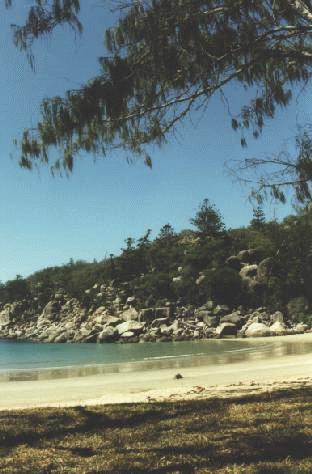 Florence Bay, Magnetic Island
At dusk, we walked onto the jetty at Arcadia, where the vehicle barge lands. At the end of the jetty is a place where you can feed the rock wallaby, who come out here every evening. Although they get fed, they're still wild animals, and most of them don't let you get too close. A nice evening walk if you're near Arcadia.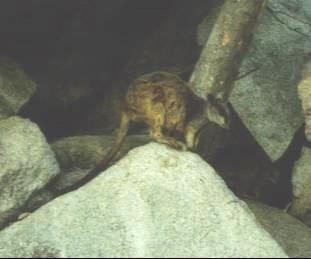 Magnetic Island Rock Wallaby
The next day was our longest traveling day, as we first had to take the ferry back to Townsville, and after that, we still had some 450 kilometers to go. The Bruce Highway is a nice, well maintained road, but it's only one lane each way, and there are always a few roadworks along the way, so you can't really travel that fast. This time, we also encountered an accident which took some time. Of course, traveling with a baby also involves some extra stops, so all in all our arrival in Broken River, Eungella National Park was not until in the evening.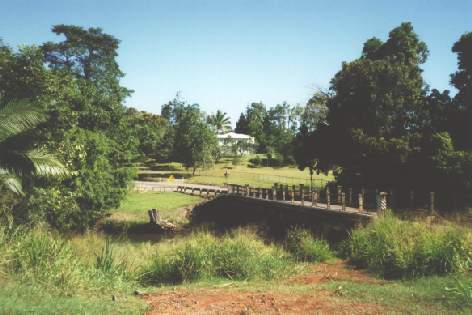 Typical Queensland scenery
The road between Townsville and Mackay crosses through many sugar cane areas. In order for the sugar cane hauling to be efficient, there are sugar cane trains everywhere. Really slow moving, miniature-looking trains which are quite pituresque, unless you have to wait for one to cross the road, as that can take a long time.

Sugar cane train
The last part of the drive was really nice, as the last few kilometers to Eungella are a very steep climb, with lots of hairpin turns (not suitable for cars towing caravans). Eungella National Park is an extremely unspoilt place but also very accessible: nice walking tracks, guided night walks, etc.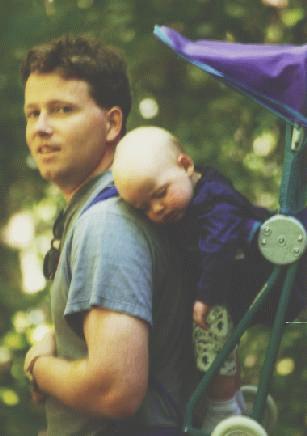 Emmy asleep during one of our rainforest walks
We stayed in a lodge and spent some relaxing days. We saw plenty of what we came for: Platypus! But also a large lizard, many birds (kookaburras, honey-eaters), possums and some kangaroos.

Eungella Kookaburra
Eungella was followed by another long drive down to Rockhampton and the next day on to Hervey Bay. We came to see wildlife and our next goal was to spot a whale. And so we did! We took a boat trip with the "Spirit of Hervey Bay" on our second day in Hervey Bay and although the weather was a bit rough (only the wind), it was a remarkable day. Sea-sickness is immediately forgotten when you have a whale on touch distance for over an hour!

"Our" humpback whale
All in all we saw about ten whales on the half day trip. When we flew in to Lady Elliot Island two days later, we spotted about ten more from the air. But the boat trip was an experience never to forget. Dolphins are not the main attraction of this trip, but the sight of them jumping meters into the air is just as spectacular. And they seem jealous of all the attention the whales are getting.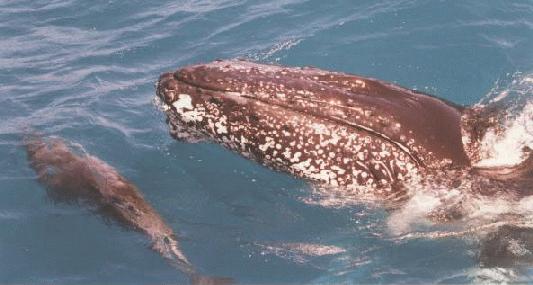 Whale and "jealous" dolphin
The first sight of a whale is extremely exciting. We were very lucky that a young whale fancied our boat and, as if he was in love with us, came up close to the boat to perform and really show off his tail.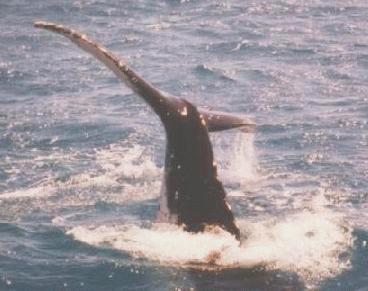 Whale tail
Lady Elliot Island was a highlight on our previous trip to Australia and we therefore were determined to visit again and stay a bit longer. Now that Ferry was a PADI certified diver, this also extended the possibilities.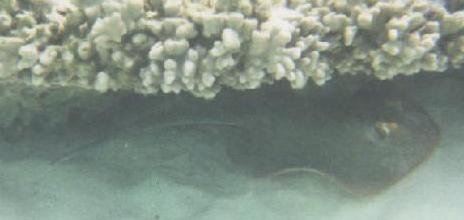 Stingray in the Lady Elliot Island lagoon
On our first day, Ferry made two dives and saw Moray Eels on the first dive. We only saw Manta Rays from the shore as we were watching the sunset on the lighthouse end of the island. Emmy was particularly impressed with the birds on the island and she tried to point them all out individually.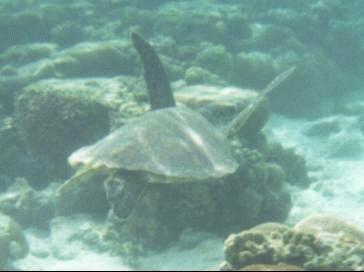 Turtle in the Lady Elliot Island lagoon
Mirjam was a bit unlucky snorkelling on the second day. The wind was quite strong and therefore snorkelling was only permitted in the lagoon. This is quite shallow water and after 10 o'clock the tide was too low. Nevertheless, she saw stingrays, a turtle and even an octopus.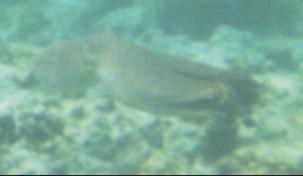 Octopus in the Lady Elliot Island lagoon
After our late afternoon flight back to Hervey Bay we drove to Noosa Heads. Since we were driving at the beginning of the evening we had hoped to come across some kangaroos, but were also a bit afraid of hitting one. But we did not see any and it just struck us how very dark it gets at night. Noosa again was a place we knew from our previous trip. We stayed at the same appartments, where the sun-heated spa pool was an extra attraction.

Noosa Heads National Park
After a long and hot walk through Noosa Heads National Park we took a well deserved plunge and Emmy just loved it. We went to a lookout to see the sunset and there we saw another koala in the wild.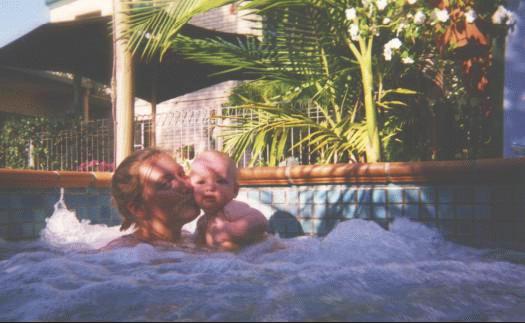 Killara Holiday Appartments spa pool
A scenic route took us to Brisbane. We decided this area was certainly a place where we could settle. Peaceful, just enough inhabitants and close to places we had come to love. We passed the Glasshouse Mountains and also got a daylight look at a kangaroo family near a golf course.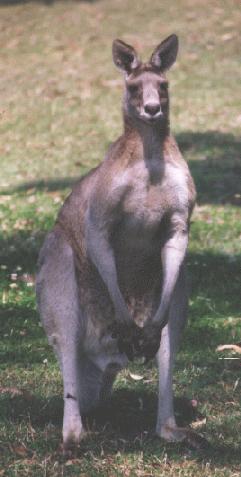 Large Kangaroo
The Glasshouse Mountains are really a weird bunch of hills which stick out in the landscape. Although mentioned as a tourist attraction quite a bit, we found the area to be very quiet and therefore quite nice.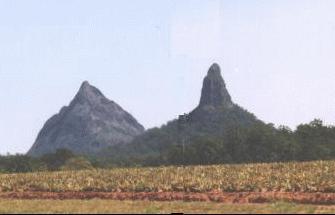 Glass House Mountains
Just before Brisbane we visited Alma Park Zoo. The setting is very nice and although it's a bit against what we think is right, we even patted a koala there.
Brisbane was a very pleasant surprise. The hotel we booked was Ryan's on the River offering a splendid view of the Brisbane skyline. If you stay at this hotel (which we can certainly recommend), make sure to book a room with city lights view (it'll cost a few extra bucks, but it's worth it). If you do, this is about the view you will have straight from your room (with balcony):

Brisbane on a sunny day

Brisbane at night
We took a ferry to South Bank, the former Expo grounds. This truly is a lovely place, with sandy beaches and lagoons near the riverside. There are a lot of leftovers from the Expo days, such as a temple from Nepal and several other beautiful buildings. All in all a very relaxing atmosphere and a must-see on a nice day. We were a little bit afraid that our stay in a big city like Brisbane would spoil the back-to-nature feeling of the rest of our holiday, but it did quite the opposite and only reinforced our holiday-feeling. This was definitely a trip never to be forgotten, and we hope to be able to come back to Australia soon, maybe this time to Western Australia.
---

E-mail: website@famdepaus.nl
Click here to return to the front page.