Travel to The Maldives
---
In March 1998, we took off to The Maldives for two weeks of holiday, together with three (diving) friends of ours, and Emmy of course. We went to Maayafushi island, and we didn't regret it! The transfer from the international airport of Male (only one landing lane dropped in the ocean) was by floating plane, which was a nice experience. Seeing the islands from above is beautiful.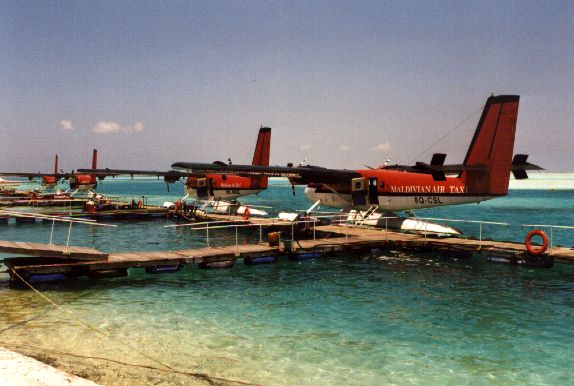 The floating planes of Maldivian Air Taxi
On our arrival we got a welcome drink and a speech about opening times of the restaurant and things like that. It turned out to be an important speech, because there was no information in our room about anything on the island. The room itself (more of a bungalow although we did have neighbours) was very nice. It was spacious, with a double bed (quite big) and in our case a single foldable bed for Emmy, which folded without us wanting it at first, but it turned out OK during the rest of our stay. The room had a high ceiling with a fan, and an airconditioner that only worked if you paid for it in advance. We didn't and had no trouble with the heat, because the bathroom has a partly open ceiling and if we opened our window the wind would blow through our room cooling it adequately. In the bathroom is a large sink and two showers (with hot desalinated water), with an additional handshower for cleaning your feet or divegear. All in all, a very spacious and clean room.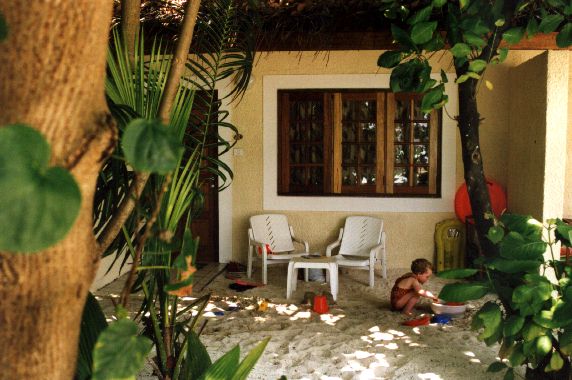 Our room seen from the outside
The island itself is rather small, and there is not much to do. You can do all kinds of watersports, play table tennis or volleyball and that's about it. There is of course a restaurant, a coffeebar and a normal bar, and there are also two shops, one that only sells cloths and the other one a very small souvenir shop. We already paid for the meals, and the prices of drinks were reasonable: US$3 for a 1.5 liter bottle of mineralwater and US$2 for a good-sized beer or a coke. A big advantage was that they don't have a surcharge for credit cards on Maayafushi (we've heard that some of the islands charge as much as 5 percent extra if you pay by credit card). What they do have is a standard surcharge of 10 percent on all the drinks and snacks.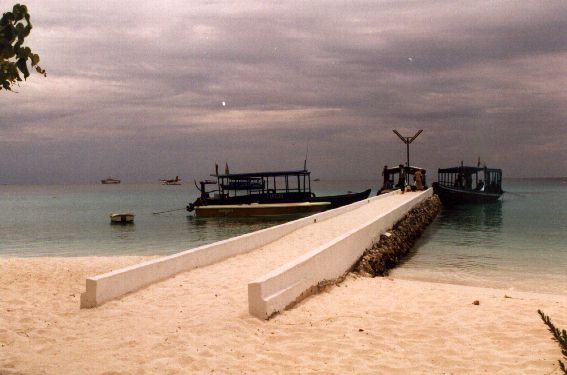 The dock from which the diveboats leave
The reason we came to Maayafushi was the snorkeling and diving and we weren't disappointed. The house reef offered great snorkeling (we saw sharks, turtles etc while snorkeling) and fine diving as well (the housereef was the only place we saw mantas!). The boat diving offered a nice change from the housereef, but even after 12 days, we still liked diving the housereef. For more detailed info on our diving, check the dive pages!
The island
There were a few things we didn't like so much about Maayafushi. First of all, they have excursions to fishing villages and the like, but you have to look hard to find them, and as there is no promotion for them, most of them are cancelled. The island is very German-oriented, and sometimes we felt like intruders. We were unlucky because there was a group of about eight people on the island that had been there before and because of that they could arrange all the divetrips and automatically put their names on the list. As the dive boats carry a maximum of 20 divers, we had to fight to get on the nice trips as well. If you want to join the nice, famous dive sites, you have to watch the lists like an eagle!! One thing we only found out while on the island is that the dive shop offers a DAN dive insurance, which is US$10 for 21 days. As we already had diving insurance (and had the cards to prove it!) we decided not to take the DAN insurance, but that was not possible. If we wanted to dive, we had to take the insurance.
All in all it was a great holiday and we can recommend Maayafushi to anyone, although we have no comparison with other islands. The diving in The Maldives is great, and if you don't dive or snorkel, you have to think twice before going there, as there really isn't much else to do besides hang out on the beautiful beach.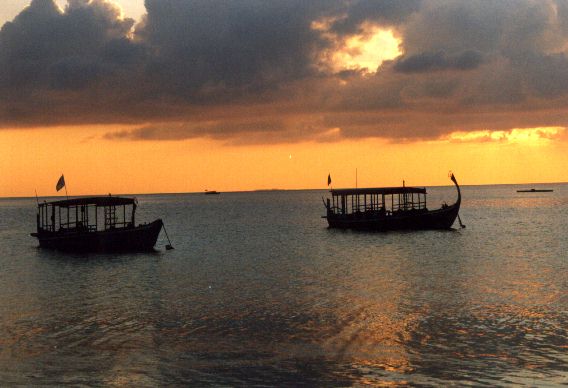 Sunset on Maayafushi
---

E-mail: website@famdepaus.nl
Click here to return to the front page.