Our Honeymoon to Australia
---
Our first trip started out in DARWIN, where we stayed for five short days. After that, we flew to AYERS ROCK, where we stayed only four days. We then flew to CAIRNS, where we rented a car and drove to SYDNEY in 14 days. That was the end of our adventures in Oz, and we went on to New Zealand, where we spent ten days on the North Island.
The whole story:
THE TOP END
On October 4th, we got on a plane from Amsterdam to Frankfurt, where we had to switch planes. From Frankfurt, we flew with Quantas, via Bangkok and Singapore to Darwin. In Darwin, around 4am, we first set foot on Australian ground. We were welcomed by a wall of heat. As the both of us are not very fond of heat, we were a bit intimidated. But we soon found out that the Darwin heat was not too hard to stand. All hotels and big shops had airco, and even out on the street we didn't suffer from it too much.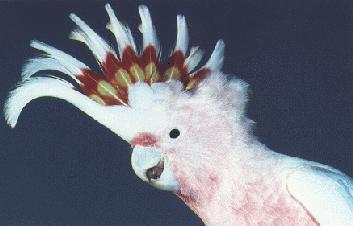 Cockatoo in The Northern Territory
Nature around Darwin was absolutely beautiful. We visited Kakadu National Park, Katherine Gorge, and Litchfield National Park. All three were breathtaking. We loved the crocodiles and other abundant wildlife near Yellow Waters in Kakadu. We had rented our own 4WD, and stayed in hotels. It was quite an experience to be swimming in a hotel swimming pool and be surrounded by red-tailed black cockatoos and other beautiful (and in the Netherlands very rare and expensive) birds. The steep cliffs of Katherine Gorge were also very impressive, and the boattrip we made there was very relaxing. After Katherine, we headed back to Darwin. As we had some time to spare, we took a detour to Litchfield, which is a very lovely, and also very relaxing and quiet National Park, with cascades, swimming holes, and termite moulds. We read that it can get very crowded during weekends, as it is very close to Darwin, but during the week it is well worth a visit.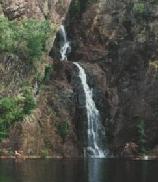 Falls in Litchfield National Park (click on image for panoramic view)
Back in Darwin, we had some time to explore the town itself, and drove to a nice beachfront place to spot some wallibies and enjoy an amazing sunset:

Sunset in Darwin
We visited Darwin at the end of the dry season. The wet season was about to start, and it showed! All trees and plants were very dry, the rivers and lakes were reduced to small billabongs, waterfalls were only a fraction of the strength they are after the wet, and the soil was very dry as well. During our stay, it only rained once, and very short. Even so, this little shower gave us an idea what it would be like to be in Darwin during some real showers. Roads get completely flooded, and it becomes very hard to get around. We were very happy with the timing of our visit, but we would also like to return to the Top End shortly after the wet season. For now, that's just daydreaming......
THE RED CENTRE
From Darwin, we embarked on a flight to Ayers Rock, with a switch of planes in Alice Springs. Ayers Rock (or Uluru as the Aboriginals call it) is a weird but beautiful piece of rock in the middle of the desert. One of Australia's trademarks, we felt we HAD to visit. The mystical atmosphere surrounding the rock and the surprising change of color at dusk and dawn made it an experience we will never forget. The Village near the Rock, with multiple-star hotels, resorts and even a cinema was a great deception to us. The contrast with the quiet nature and the silence around the rock is huge. Even though we stayed in an on-site van on the campground, for us it kind of spoiled the beauty of this place.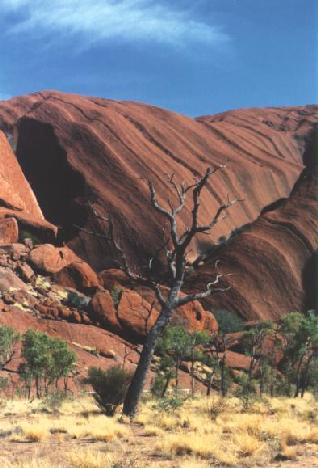 Close-up of Ayers Rock (Uluru)
Besides Ayers Rock, there is a second rock nearby. Actually, it is more of a cluster of rocks, called the Olgas (Kata Tjuta for the Aboriginees). The Olgas don't rise from the earth quite as steep as Uluru, but they are very beautiful indeed, and provide for some lovely walks. The number of buses full of tourists is also a bit smaller, so all in all it is a better place to relax then Uluru.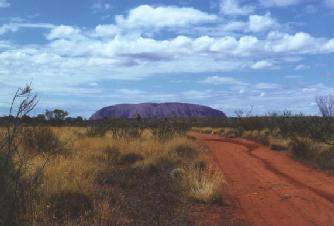 Ayers Rock (Uluru)
The third highlight of our visit to The Red Centre was Kings Canyon. Steep walls rising over two hundred meters from the earth, strange-looking layered structures, and a great walk provide for an outstanding day. Well worth the drive from Uluru and back.
THE EAST COAST (QUEENSLAND AND NEW SOUTH WALES)
After four days in the Red Centre, we left for Cairns. When we arrived at the airport, we headed for the car rental company to pick up our rental car. We had booked a trip with a small car and accomodation included, but when we got to the desk of the rental company, they informed us that they were out of small cars, and that we would get a much larger car at no extra cost. This nice surprise got us in a very good mood, and when we arrived at our first accomodation, it turned our to be a very nice appartment.
We stayed in Cairns for three days. On one of those days, we took a trip to the Great Barrier Reef, one of our main reasons for coming to Australia. After a boatride, we arrived at a permantly anchored pontoon. This was our basis from which we could go out to snorkel, and where we had lunch. The experience of the first time we put our heads under water is a memory we will never forget. Words can't possibly describe the feeling. The colorful coral, the beautiful tropical fish, and the serene silence of being underwater made our hearts miss a beat or two. From that moment, we were hooked on the reef, and were already making plans for our next trip to Oz.
From Cairns, we drove to Townsville. We informed about a trip to Magnetic Island, just off the coast, but we were too late for such a trip. Therefore, we did some sightseeing in Townsville, and relaxed in the pool of our motel. The next day, we drove to Airlie Beach, a place near the Whitsunday Islands. The day after we arrived, we took another trip to the reef. A nice trip through the Whitsundays took us to the outer reef, where we lost no time whatsoever getting into the water. On our first GBR-trip, we took some underwater photographs with a disposable camera. They came out quite nice, but a bit blue, as we aimed down too much. We had obviously learned from this experience, as the photographs we took on this trip came out much nicer. Besides the coral and amazingly beautiful fish, we also saw some turtles underwater, and actually came to swim real close to them.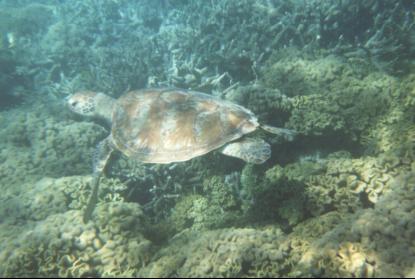 Passing Turtle
Another creature we encountered on a number of occasions was the Giant Wrasse. These creatures are quite big (up to 1.5 meter in length), but are very shy and peaceful. Sometimes they eat at the coral, and that's about the only sound you hear underwater.

Giant Wrasse eating at the coral
We had to move on after only one full day in Airlie Beach. At that moment, we decided that we just HAD to come back to Australia, and that we would stay a little longer at places of interest. The next stop after The Whitsundays was Rockhampton, which we didn't like too much. It was just an average town in our opinion. But from Rockhampton, we went on to Hervey Bay, where there really is too much to see and do. On arrival, we checked into our motel, and dived into the pool, which also had a spa, like many hotels/motels in Australia. We booked a tour to Fraser Island for the next day, and a trip to Lady Elliot Island for the day after that. Fraser Island was really beautiful. This island is pretty big, and all sand. The freshwater lakes are cristal clear, there are some colored sandrocks along the beach, and a few wrecks as well. You need a 4WD, and as we only had a conventional vehicle, we took a day trip on a 4WD bus. Fraser is really something not to be missed, and as friends have told us, it is even better if you go on a three or four day safari.
We thought nothing could top this experience, but the next day we were already corrected. On this day, we stepped into a small aircraft in the early morning and enjoyed an hour long flight to Lady Elliot Island. The flight itself was beautiful, and looking at Lady Elliot from the sky was great. Most of the time, you only see views from the air in books and brochures, but here you can see for yourself! The island itself is a very quiet place, with lots of birds nesting, and quite a few turtles. To give an idea of how small the island is: the landing strip runs from one end of the island to the other. You can walk around the island in about twenty minutes. The island is a true coral cay, which means it is right on the Great Barrier Reef! The snorkelling is absolutely amazing. You can hand-feed fish and swim next to turtles. We also saw two octopuses and quite a few bright blue seastars. This is one island we will definitely come back to!!

Aerial View of Lady Elliot Island
Upon returning from Lady Elliot, we had to drive some two hundred kilometers to Noosa Heads, where we spent the next night. Noosa looked pretty nice to us, but because we went to Lady Elliot, we didn't have enough time to really explore this place. The next day, we left for Surfers Paradise, along the Gold Coast. Lots of people are crazy about this place, but we were NOT. It's a very crowded place, with lots of skyscrapers and fancy buildings. To us, it felt like this place was totally misplaced on the otherwise relaxed and uncultivated Queensland coast.
The rest of our trip went through New South Wales to Sydney. First, we drove to Coffs Harbour, where we visited a koala hospital, which was quite nice. The next day, we drove to Port Macquire, and the next day on to Sydney. The last part of the freeway to Sydney is impressive, as it is simply carved through the sandstone. The walls of this sandstone rise some ten-twenty meters above the freeway.
Sydney itself is a pretty place, especially from the harbour. Take a cruise through the harbour for the best views of Sydney. We also liked the climb in one of the pillars of the Harbour Bridge. The view is great and there's a little expo on how this bridge was built. We also went to the zoo. It's really strange to be looking at an elephant and see the Sydney skyline in the rear.
---

E-mail: website@famdepaus.nl
Click here to return to the front page.