Western Australia April/May 1999
---
Spring 1999 the four of us were off for one month to Western Australia. We had a stop-over in Singapore, which proved to be very enjoyable. The first day there we slept for a few hours and then took the subway to Riverside. From there we went on a scenic boat trip just before sunset. The next day we took the cable car to Sentosa Island. There is a lot to do, but just a tour around the island by monorail is very nice. However, strangely enough with the child oriented attractions, getting around with a stroller is almost impossible. We visited Underwater World and then took the ferry back.

Singapore: Sentosa Island
One thing that really amazed us about Singapore was the lack of garbage cans. If they want to keep their city clean - and they do somehow - why make it so hard?
Landing in Australia felt like coming home. Parrots and lorikeets everywhere: it has become so familiar. After one night in Perth we picked up our camper and drove to a campground in Rockingham. We found that a lot of campgrounds offered en-suite facilities at little extra cost. It's just a bit more luxury and very nice when you're travelling with small kids.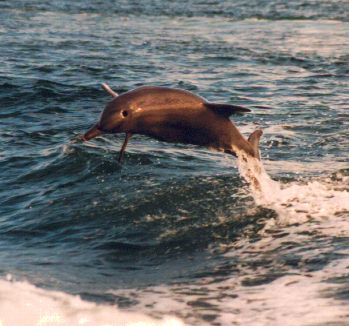 Rockingham Dolphin
Our main reason to come to Rockingham was the dolphins and what a reason! Mirjam and Ferry both spent a morning snorkelling with wild bottlenose dolphins. We found them to be bigger than expected, we saw mother and baby and even mating dolphins. Aren't they just beautiful?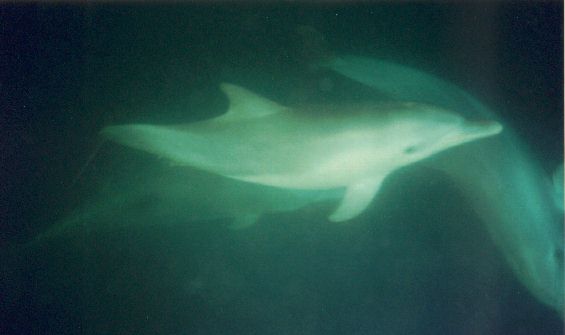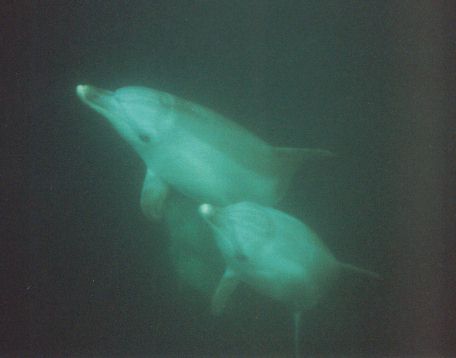 We also visited Penguin Island. This however was a bit disappointing. The boardwalk mentioned in all booklets runs only for one hundred meters and certainly not all around the island, so again a stroller will do you no good. Then the penguins were off on a feeding trip, so we were just a bit unlucky.
From Rockingham we went North past Perth, first to Yanchep National Park. There we did a short walk, encountered a kangaroo, hundreds of white-tail black cockatoos and galahs. They also have a koala enclosure.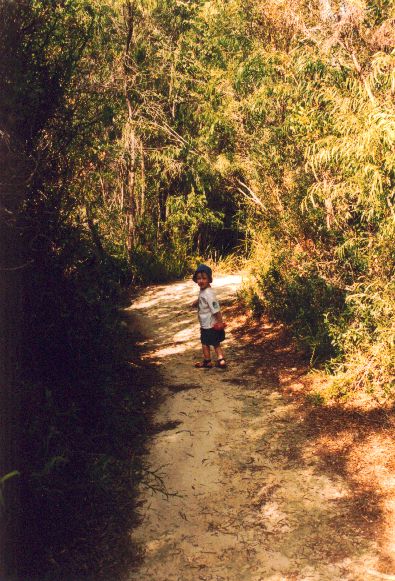 Emmy walks in Yanchep National Park
The road between Yanchep and Cervantes is hilly, a bit savanne-type landscape. We skipped the Pinnacles, because the gravel road up to the park was too uncomfortable for our camper and the two kids. And then you get OUTBACK: red sand and bushes as far as the eye reaches, sheep, kangaroos, emus and all kinds of birds: birds of prey, vultures, cockatoos and lorikeets. It's a fantastic stretch of nothing. It gets extremely dark and if you drive at night you see headlights of cars that you will pass only fifteen minutes later. There's the occasional roadhouse for fuel, coffee and souvenirs (and lots of flies!). Not somewhere you'd want to get car trouble. But we did. It didn't prove to be a disaster and service by the RACWA in Rockhampton was good. The second time the camper broke down was in Carnarvon and gave us the opportunity to visit the one-mile jetty.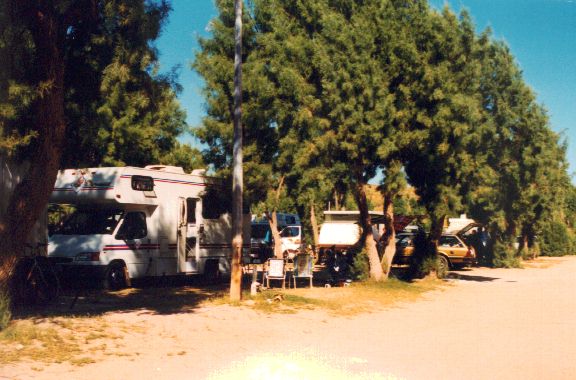 The camper at a campground (Coral Bay)
We caught a glimpse of Shell Beach, hurried back into the camper because of the flies and drove on to Monkey Mia. The campground there is nothing fancy, but it was one of the only places we've been to where they keep the doors of the toilet/shower building closed so no insects can get in. In Monkey Mia we did the standard thing: stand knee deep in the water and have the dolphins parade. We also took a boat trip on a catamaran and saw tiger sharks, dugongs, dolphins, a sea snake and turtles.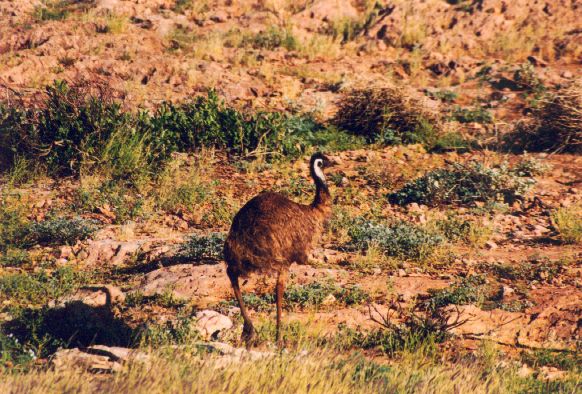 Emu in Cape Range National Park
We kept changing our itinerary. Before we left home the tropical storm Vance hit on Exmouth, so we had transferred all our dives from there to Coral Bay. Then we had to change the itinerary because of our car trouble. But still we really wanted to see Cape Range National Park and we are glad we managed to go there after all. We spent two nights in Exmouth and drove to Turquoise Bay. We snorkelled there and saw quite some emus, lorikeets, ospreys and kangaroos.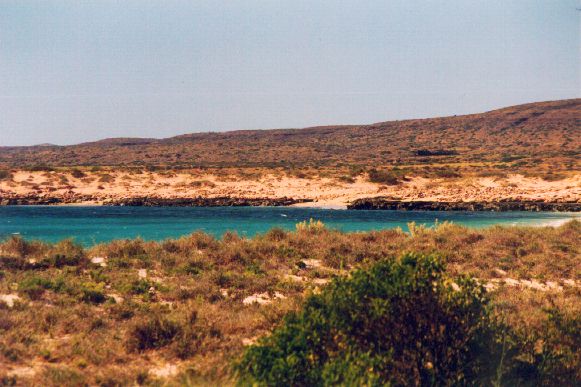 Turquoise Bay
On our way to Coral Bay we drove up the Charles Knife Road into the Cape Range National Park. Steep and gravel road, but no problem and it offers superb views.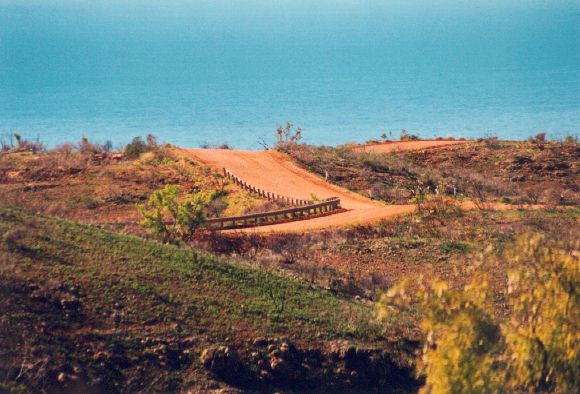 Charles Knife Road
Coral Bay has a very laid back, relaxed atmosphere. There is really nothing but a few campgrounds, a hotel and a few shops. It's diving, snorkelling and fishing oriented and it's a perfect place for all that. One of the main attractions is whaleshark spotting and Ferry went on a whaleshark snorkel: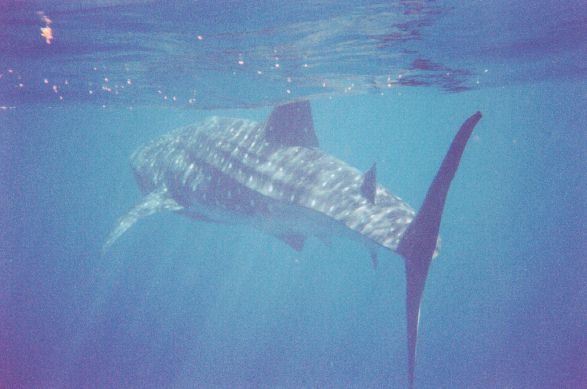 Need we say more?
For a more detailed account of the diving check our dive pages.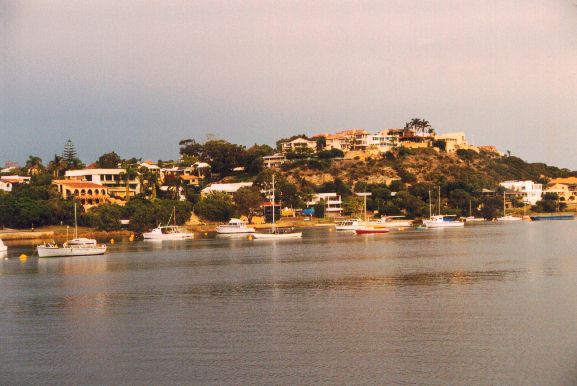 Swan River near Perth
From Coral Bay we drove back South. the last two days we spent in a hotel apartment in Perth and we took a boat trip on the Swan River: Perth-Fremantle-Perth. And then it was back home again: long hours of wondering why we just don't live in Australia.......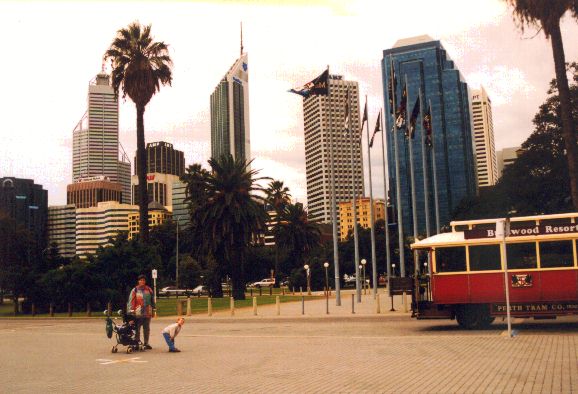 The family in Perth
---

E-mail: website@famdepaus.nl
Click here to return to the front page.