Australia January/February 2003
---
---
Around Brisbane
Arriving from Guam via Cairns, the Kangaroo Point Holiday Appartments, although nothing really special, to us was immediately "home". Nice and clean, spacious. We just love Brisbane, it must be such a nice city to live in. The Southbank Parklands are absolutely unique. And the surrounding countryside is just beautiful.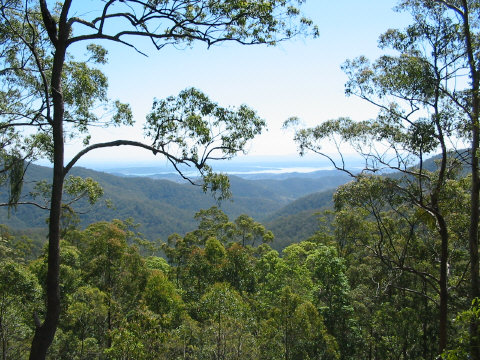 View in Brisbane's hinterland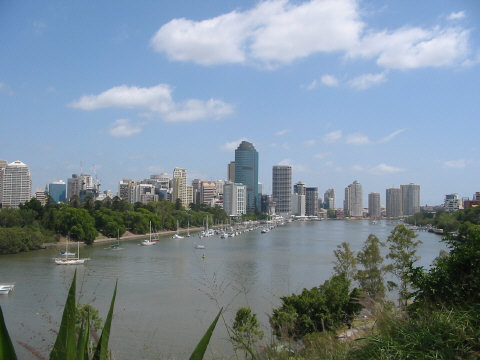 Brisbane
North Stradbroke Island
Now, why do people from Brisbane not all come here for their holiday? We don't understand, but it is a good thing, because now this beautiful island remains unspoilt and very quiet. Stretches of beach: unbelievable. Laidback atmosphere, koala's, dolphins, birds, freshwater lakes, nice walks. We stayed at the Islander Inn: very nice and spacious holiday appartments, pool, playground.

Gorge at Point Lookout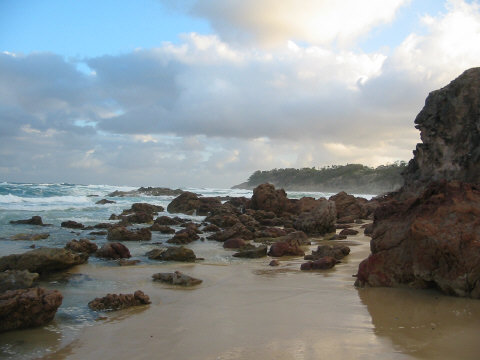 Dune Rocks at sunset
Gold Coast
It is difficult to understand why the average Australian prefers Surfers Paradise over Straddie. So crowded, we even got stuck in a traffic jam! Anyway, for the kids there are some theme parks - our main reason to be here - and we went to Dreamworld. A strange combination of a wildlife park, a petting zoo, Disneyland and a fair. There is even a pool with water slides. Not the highlight of our trip - not even to the kids - but we had a really fun day. Really interesting was the tiger show: we had never seen something like that. Surfer's hinterland (a.o. Springbrook) is of a typical Australian beauty, fortunately.
We stayed at the tiny Silver Sands Motel. Very compact and centrally located, it even offers a small pool.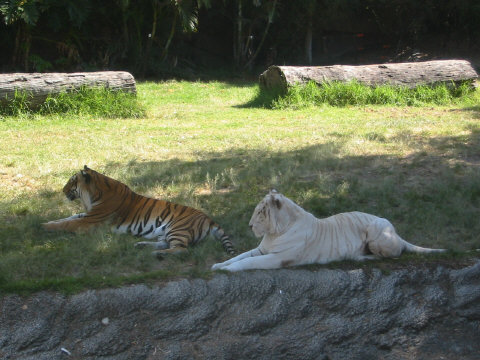 Tigers at Dreamworld
Byron Bay
On our way to Byron Bay we stopped at Tropical Fruit World. Now this is a place you should only be at when it is busy. With few visistors all the staff wanted to do is get us through the whole thing quickly. No time for the playground, a second ride on the miniature train, etc.
Byron Bay in high season does not offer the atmosphere you'd expect from a place which is famous for alternative lifestyle. Too crowded this time of year. Not our no worries, no hurries Oz. But the coastal scenery remains absolutely stunning. We did a walk around Cape Byron and saw dolphins in the surf, numerous eagle rays cruising by and sea birds. Underwater at Julian Rocks the diving was great too. Really, really beautiful.
We stayed at the The Oasis, nice and plenty of room, but it doesn't live completely up to their brochure and website.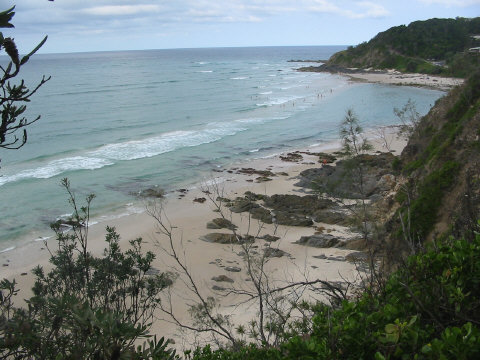 Surf beach Byron Bay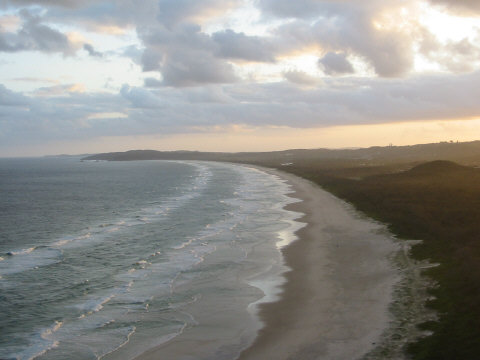 Tallow Beach
Sydney
We took the night train from Byron Bay to Sydney. A very comfortable way of travelling. On the way we pass very close to a bush fire. This visit to Sydney was to show our kids some of the landmarks, and we did Sydney Tour, Harbour Bridge and Opera House. Although the neighbourhood was a bit run down, the Waldorf South Sydney Appartments were a good place to stay: very conveniently located w.r.t. public transport.
Around Melbourne
To Melbourne we again went by XPT, a train ride by day this time. But again, very comfortable and the food was of good quality and affordable on the train. In Melbourne we stayed at the Atlantis Hotel twice. Very friendly personel there, conveniently located and everything in order. We spent one week in a camper touring mainly the Great Ocean Road, Mornington Peninsula and Philip Island. On the Peninsula it still seemend to be high season, wehereas in other places the low season seemed to have started long ago. Beautiful empty beaches, kangaroos, echidna, cockatoos, kookaburras, forests, penguins, what more do you want!

Twelve Apostles, Great Ocean Road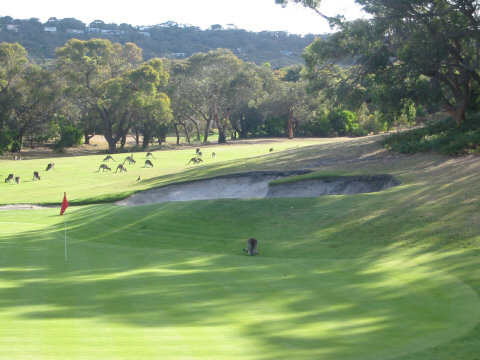 Kangaroos at Anglesea Golf Course

Nobbies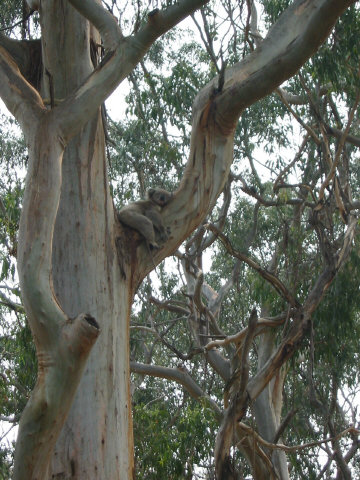 Koala on Philip Island
See our dive pages for more on the diving.
Back to OZ index
Back to RTW index
---

E-mail: website@famdepaus.nl
Click here to return to the front page.